English

The Teaching of English
Swing Gate began to implement the 'Talk for Writing' approach to learning English in January 2020. It is a creative and engaging approach developed by the author Pie Corbett and supported by Julia Strong. It is powerful because it is based on the principles of how children learn.
Talk for Writing enables children to imitate orally the key language they need for a particular topic (for example,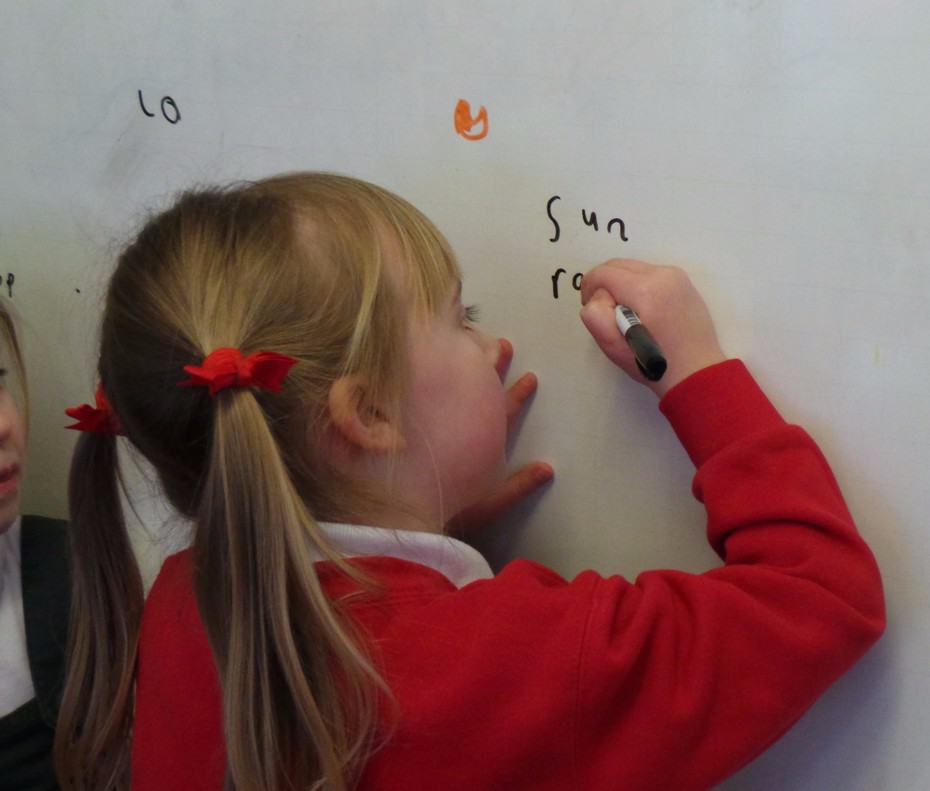 warning stories), before they try reading and analysing it. The children then undertake a variety of fun activities and 'short burst' writing tasks before being supported to write their own versions in a similar style, through shared and guided writing sessions.
Eventually, the children move on to the final phase, which is when they apply independently what has been taught and practised to write their own text.
Whilst our very young children may only make a few simple changes, we hope to see them adding, embellishing, altering and manipulating the original structure with increasing confidence as they continue to move through the school.
The key phases of the Talk for Writing process are outlined below:
Baseline – The cold task
We begin the teaching and learning process with a 'cold' writing task. This means the children have a go at writing in the text type they will learn about. As teachers, we then use this piece of writing to identify strengths and set individual targets.
The imitation phase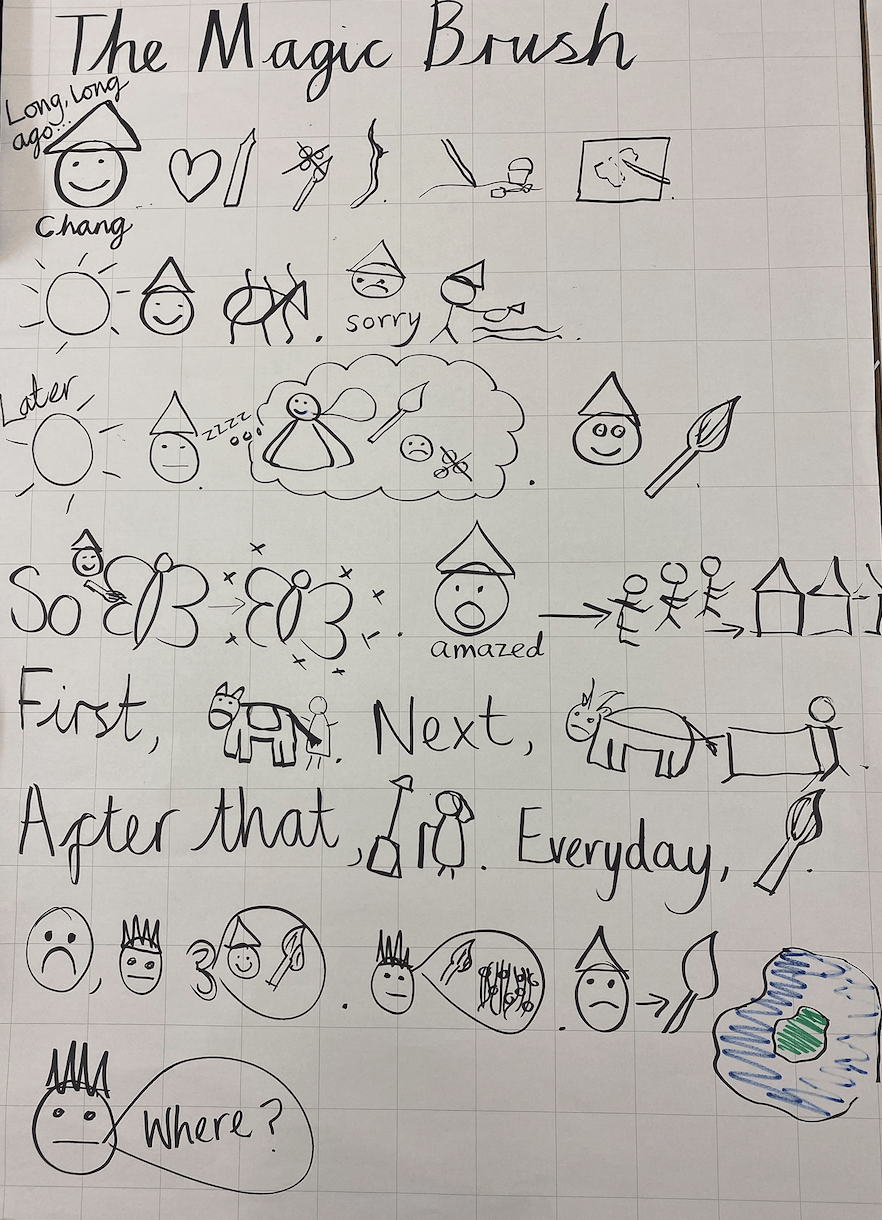 A text is introduced and read to the children; together the class learn to tell the story. To help the children remember a multi-sensory approach is used:
A visual story map

Actions

Using an animated, lively expression
As the children learn the stories word for word, they develop the use of specific sentence structures and language patterns that suit the text type.
The principle is that if a child can tell a story, they will be able to write a story.
During this first stage we also use a range of drama games to develop an understanding of the story and begin to build up a washing line in our classroom with posters reminding children of the learning journey so far.
The innovation phase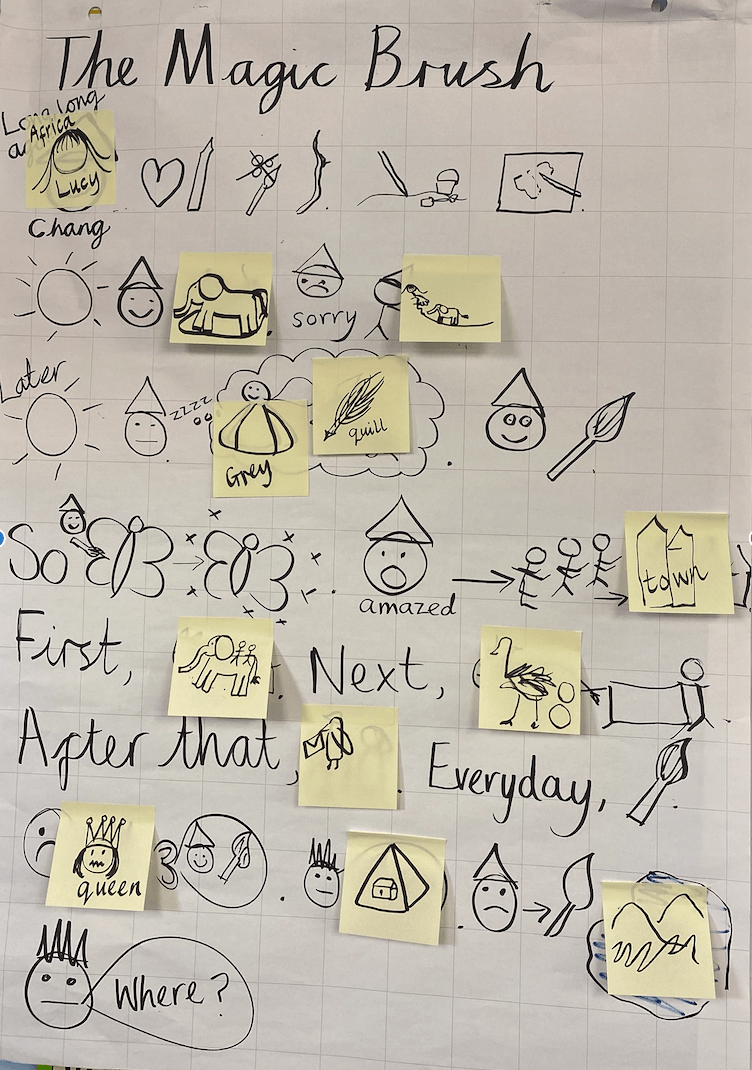 The children explore different ways they could change aspects of the original text, for example changing characters, setting or writing from a different point of view. They then make changes to their story map and orally tell this new story.
Through shared and guided writing, the children write this new version in manageable sections. During this week, we teach spelling and grammar in the context of the story.
This stage is very supportive, so children gain confidence and know what they need to do in order to get better.
The invention phase – The Hot Task
In this final stage, the children use all the skills they have learnt so far for their independent 'hot' task. This is where they show us what they have learned during the unit of work.
There is a freedom to draw upon their own ideas, or they can 'hug closely' to the original shared text should they need to. Teachers use this task to assess how much progress the children have made.
The children present their work by either publishing, presenting or reading out loud to peers to celebrate their successes.
Schools around the country, which have embedded the Talk for Writing approach, have been successful in raising attainment and improving progress of children's writing. At Swing Gate, the teachers are thoroughly enjoying teaching and learning in this style and the children are already showing us what wonderful storytellers they are.
You can find more information about Talk for Writing on their website.
Reading
Learning to read requires the development and application of a number of key skills. These include using strategies to read for meaning, select and retrieve information, infer and interpret information and comment on the structure and organisation of texts. Additionally, skills are developed using a wide range of different text types so that our children can be taught to compare the ways in which writers use language and the effect of this on the reader.
Reading is based upon the development of key skills, and the appropriate level of reading book provides the context for acquiring these skills. The teacher uses their professional judgement and our benchmarking toolkit, to assess when your child is ready to move onto the next reading level.
Reading practice sessions
Children in Reception and Year 1, apply their phonic knowledge in small group reading practice sessions. In these sessions, the children read a book which is fully decodable and matched to their phonic ability. These sessions happen twice a week with an adult and focus on decoding, prosody (reading with rhythm, stress and intonation, to the punctuation), and comprehension. The class teacher chooses a different comprehension focus for each week dependent on the children's needs. The children then take the same book home on a Friday so they can celebrate their success and continue to practise fluent reading.
In Year 2, when children are secure with Phase 5 phonics, the class move to whole class reading practice. Here, teachers select high quality texts which challenge all children. These are read aloud each day. Children read the same text over the week and the teacher will hear each child read aloud. The sessions focus on developing a wide range of skills including reading with fluency, intonation and expression, looking at vocabulary, inference, prediction, explanation, retrieval and sequencing. Children who do not have secure Phase 5 phonics, also take part in additional small group reading practice sessions following the same approach as Year 1.
Click here to read more about Phonics teaching at Swing Gate School
Reading at Home - Children who read regularly at home make better progress because frequent reading practice is essential to develop reading and comprehension skills. Furthermore, reading at home shows that you value reading and develops an enjoyment of reading which benefits all areas of learning.
Please click here to see our 'Reading Guide for Nursery Parents'.
Please click here to see our 'Reading Guide for Reception and KS1 Parents'.
Click here to find out more about Phonics and Spellings
Handwriting
It is important that children know how to hold a pencil with a comfortable grip and understand the formation of letters. Handwriting is essentially a movement memory skill which needs to be explicitly taught. Correct modelling of the agreed style is crucial during every handwriting session.
In Nursery, the teaching of handwriting is focused on developing fine and gross motor control to help the children become emergent writers.

In Reception, the children will continue to focus on their fine and gross motor control and will be taught about correct letter formation as part of their Phonics teaching.

In Key Stage 1 (Years 1 and 2), handwriting is taught in short sessions in both small groups or as a class, several times a week. It is also an integrated part of our Phonics lessons.
Please click here to see our 'Handwriting for Parents' handout.
End of KS1 Expectations (Teacher Assessment Frameworks)
Swing Gate Lane, Berkhamsted, Hertfordshire HP4 2LJ
01442 863913
admin@swinggate.herts.sch.uk